1. Click on 'Create new test' in the menu on the left.
From every page, you can click on the green button in the main menu, which will lead you to the form where you can request a new test. The rest of the form will be explained below:
2. Choose Website & apps or Videos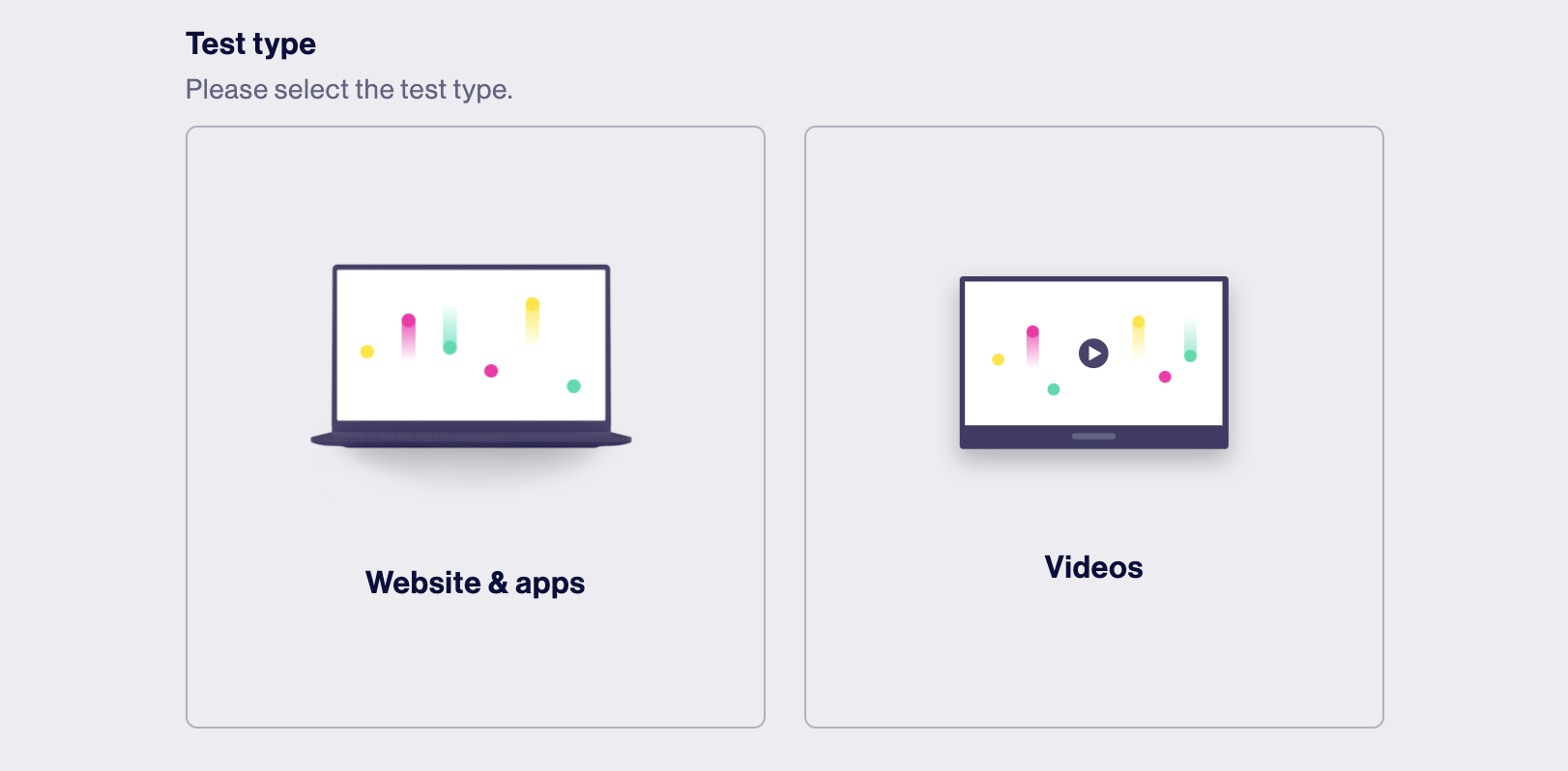 Continue reading below on 'Website & apps' test.
Click here to continue on setting up a 'Video' test.
2. Choose your type of test: Essential or Professional

You, as client, have purchased bundles of Essential tests and/or Professional tests. In the menu, under 'Organisation', you will find how many Essential or Professional tests your company has left within their current contract.
Professional tests are complemented with most consultancy hours and will deliver you access to all features in Brainpeek, and this includes an analysis and presentation of five findings by a Braingineers consultant.
Essential tests are delivered with the essential features in Brainpeek, and includes two written findings by a consultant, which are added to the online report.
If you would like to have a more extensive overview of the differences, click here.
3. Name your test

Write a name for your test which is recognizable for you and your team. On the Tests page, this one will be added including this test name.
4. Describe the purpose of your test

This description will help us to support you in getting the best test setup and thus the best results. For our consultants, it is important to know:
why you would like to setup this test;
if you have any user data or insights from other tools that precede this test
Our consultants will give you a call after requesting the test to talk through your test setup and might ask you additional questions.
5. Define your areas of focus

The areas of focus are mostly elements or sections within the flow that we will be testing, that have specific interest. For example, if you have redesigned the filter module, and would like to know the emotional experience related to that specific element.
Our consultants, when doing the analysis, will deep dive on these focus points, and compute at least one finding per focus point.
6. Write a draft for a scenario

This is the scenario that will be given to the participant and will be the basis of their behavior in the test. Our consultants will check, and discuss the scenario with you in a call, in order to have a perfect scenario for your test.
7. Define the start URL & stop moment

The Start URL is the URL where we let the participants start their test. This can be your homepage, or a specific product page, or other pages. The stop moment is when the test scenerio dictates that the test is completed.
8. Choose the device for your test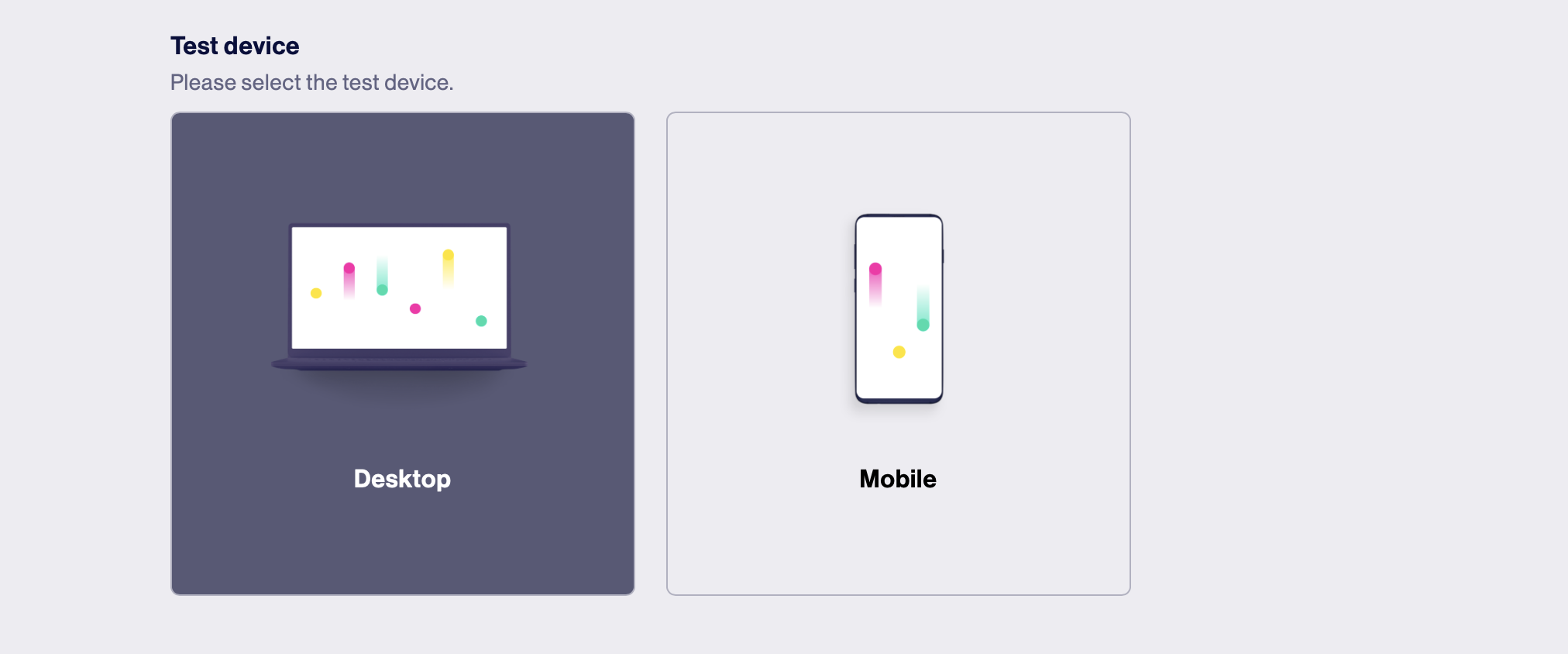 On which device would you like to have the test executed? Important to know that a mobile test will not include eye tracking, but will include touch tracking on the screen recording.
9. Choose (and define) your target group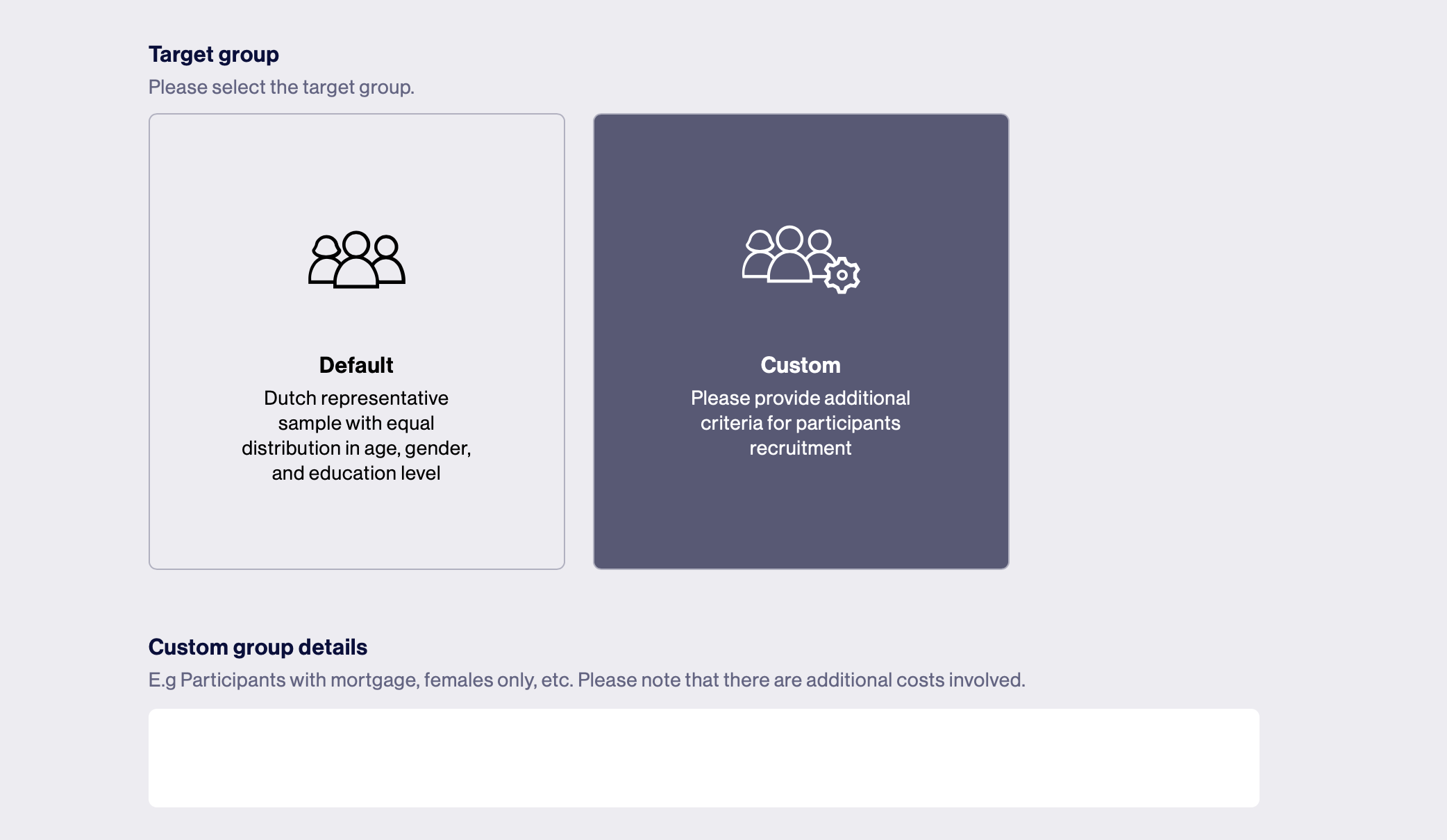 For choosing a target group, we offer two options. The default target group is a Dutch representative, with mixed age, gender, and education level. This target group selection is included in the test price.
Sometimes, a more specific target group is required. In this case you can write the requirements in the box below, which will be discussed in a call with our consultant. Additional costs are involved when a custom target group is requested.
10. Request the test!

You are ready to go! After requesting the test, a Braingineers consultant will call you within two working days to finalize your test setup.
Good luck!