When creating a new test, we offer two types of tests: Essential test or Professional test. The Essential tests include the core features in Brainpeek and two consultancy insights. If you want to get the most valuable insights out of your test, we recommend a Professional test.
All features will be highlighted below, so you can make your own informed decision:
Recordings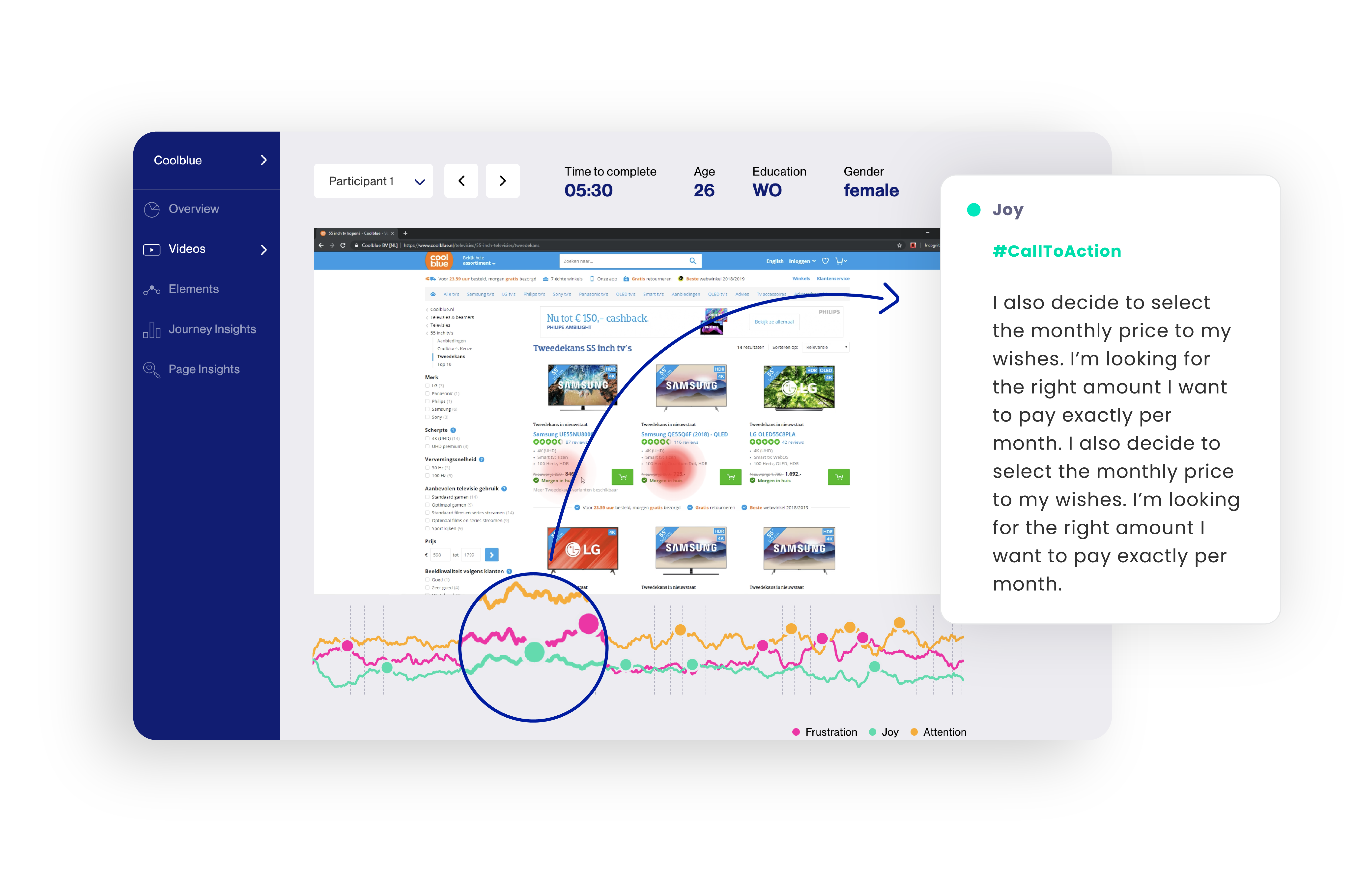 The emotion videos show the most important data layers combined, so you can perform qualitative analysis on the data of all participants. Here you'll see the screen recording of the website with the eye tracking (red dots).
Below the screen recording is the emotion graph, which displays the levels of joy, attention and frustration at any given moment.
The participant will complement the significant points (emotion peaks) with an explanation on what happened in their emotional experience. This is what we call 'neurofeedback' and is show on the right of the screen.
Elements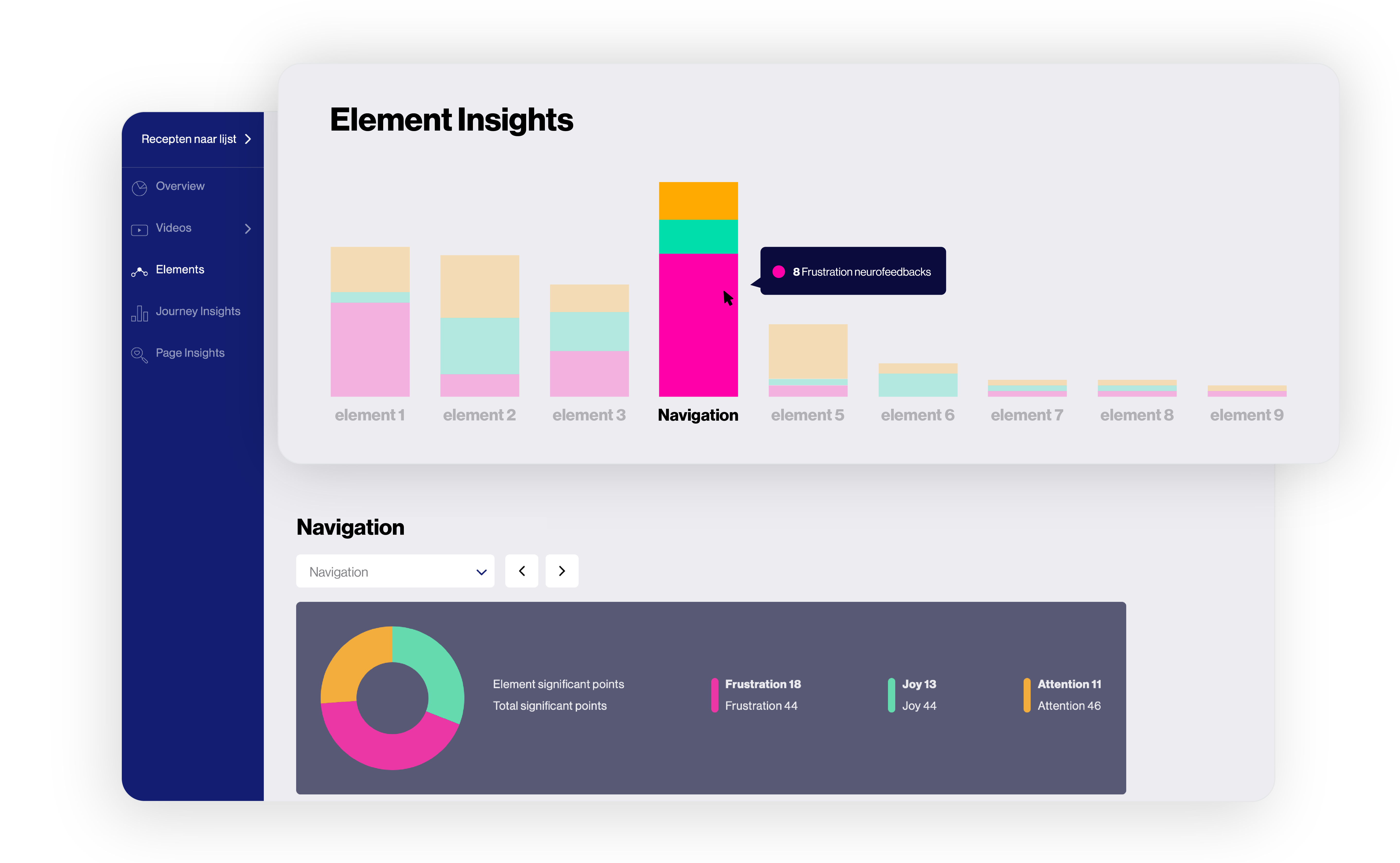 As can see in the Emotion videos, every participant has 'significant points' marked in their emotion graph, which indicate moments where a specific emotion experienced by the participant had a significant change.
With Element insights, the significant points that are related to the same element (e.g. 'Quick links menu' or 'CTA on Product page') are tagged among all participants and shown in an easy overview.
If you quickly want to know which elements cause most frustration to increase conversion, just click on the highest scoring elements and review all the neuro-feedback from the participants related to that element.
Sections
(Only with Professional tests)

The sections* will provide insights in the average emotion scores of the most important sections. You'll be able to quickly identify sections with the highest frustration scores and click through to deep dive on this section towards Section insights.
*Sections is only included with Professional tests.
Section insights
(Only with Professional tests)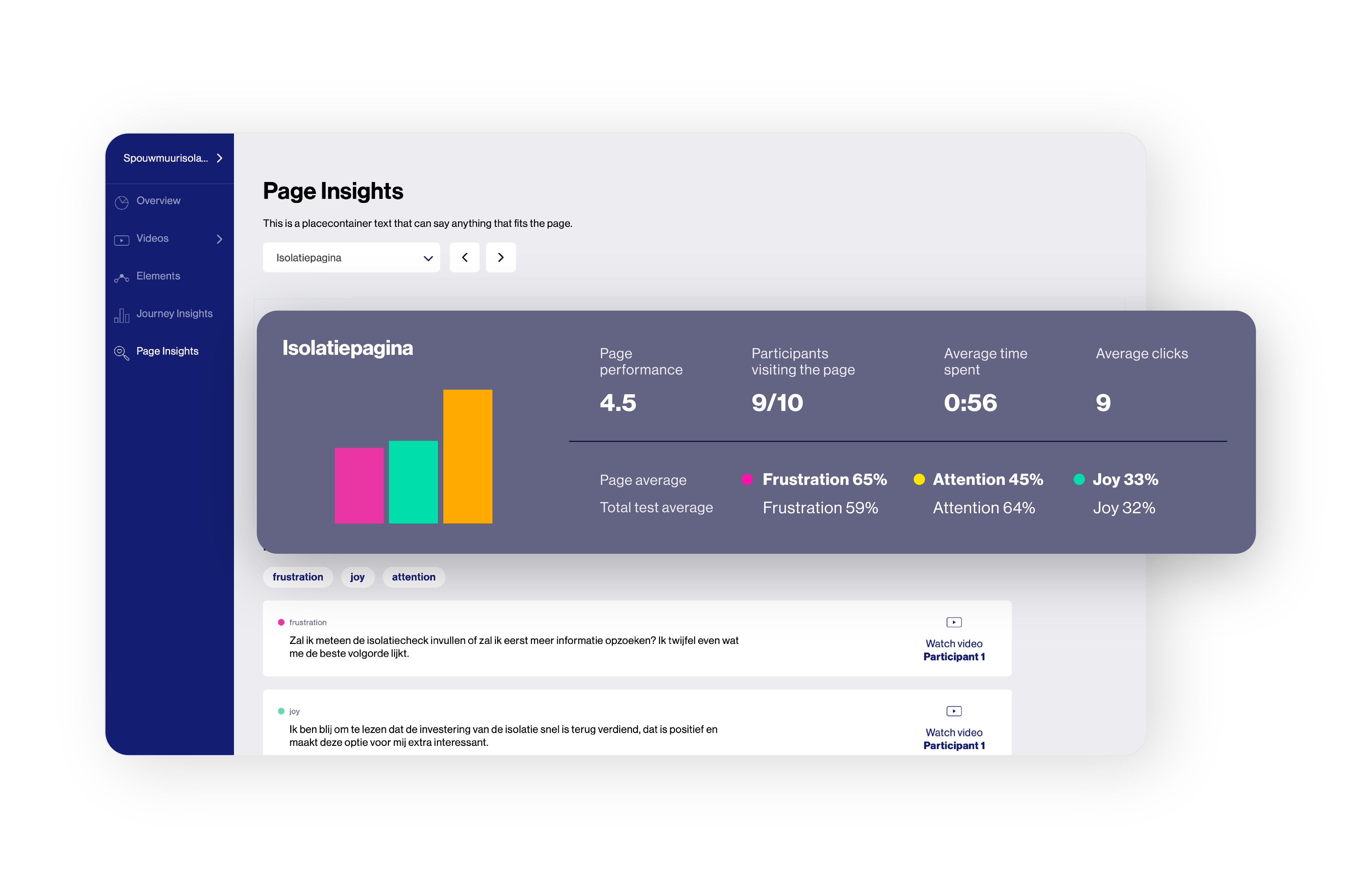 The Section insights page shows you an overview of all the sections (e.g. different pages), where participants have navigated through. Metrics per sections are calculated and shown here, so that you can directly go to your most relevant sections, and analyze the scores and neurofeedback related to that specific section.
Consultancy: Insights
Our consultants will analyze, on average 144, significant points to see which elements of your website have caused the most frustration points. Our consultant will create insights*, where per finding an element will be explained by our consultants based on data, experience, and psychological theories. During a presentation* our consultants will enable a brainstorm for optimization ideas for these elements with the highest frustration.
*Essential tests will be complemented with 2 consultancy insights. Professional tests will have 5 and will be presented by our consultant.
Consultancy: Presentation including suggestions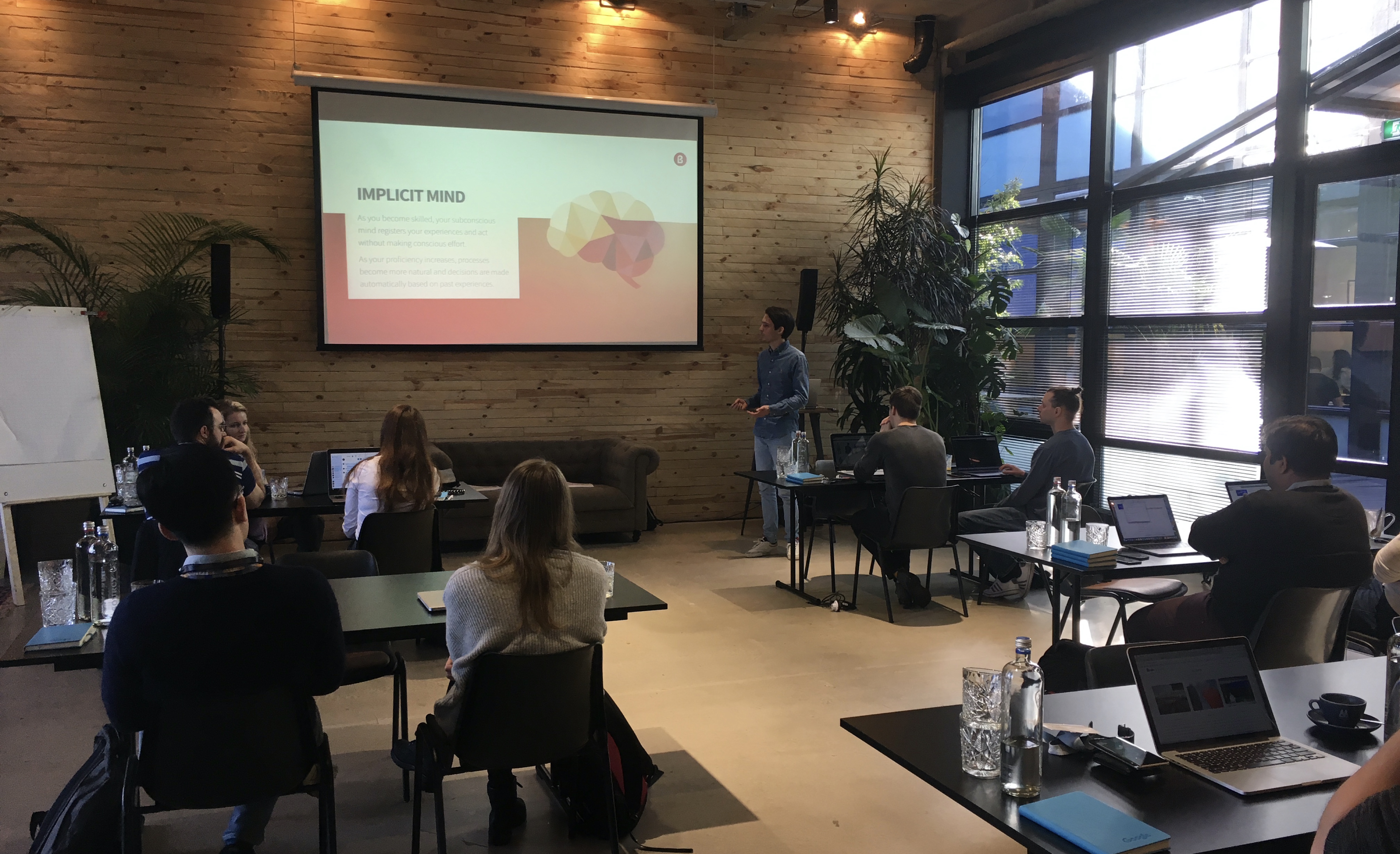 Based on our consultants experience, the most frustrating elements indicate optimization opportunities with the highest potential conversion increase. Additional to the insights, as described above, our consultants can provide suggestions* with each finding for you to test or directly implement on your website. These will be discussed during the presentation*.
*Suggestions and a presentation are only included with Professional tests.