After selecting 'video' as a test type, you'll have to choose if you would like an Essential or Professional test.
2. Choose your type of test: Essential or Professional

You, as a client, have purchased bundles of Essential tests and/or Professional tests. In each box you will find how many tests your company has left within their current contract.
Professional tests include consultancy hours, and this includes a thorough analysis and presentation of insights and suggestions on five scenes by a Braingineers consultant.
Essential tests are delivered with the data of all participants, and shown and analyzed automatically in the Video test features.
If you would like to have a more extensive overview of the differences, click here.
3. Name your test

Write a name for your test which is recognizable for you and your team and is specific to this test.
4. Upload your video

Upload your video that you want to have tested here. If you have an add-on that you want tested as well, then you can attach it to the main video, ór send it to our consultant after finalizing the test setup via a call.
If you don't have your video ready yet, but like to schedule a test, just click request and you'll be able to return to this form later and add the video when it's ready!
5. Describe the purpose of your test

This description will help us to support you in getting the best test setup and thus the best results.
Our consultants will give you a call after requesting the test to talk through your test setup and might ask you additional questions. This applies both for Essential as Professional tests.
6. Add max. 5 associations that are important for your brand

After the test, the participants are asked to choose 5 associations that they feel that match your video. We have a default list of associations (see here) where they can choose from. You can add max. 5 associations to this list to see if participants will choose yours after seeing your video.
7. Add max. 3 open questions

Also, you can add max. 3 open questions for the participants. In addition to the open questions you filled in, we'll ask two open questions by default:
Can you describe the message of the video as well as possible?
Which moment of the video made the most impression and why?
8. Choose your target group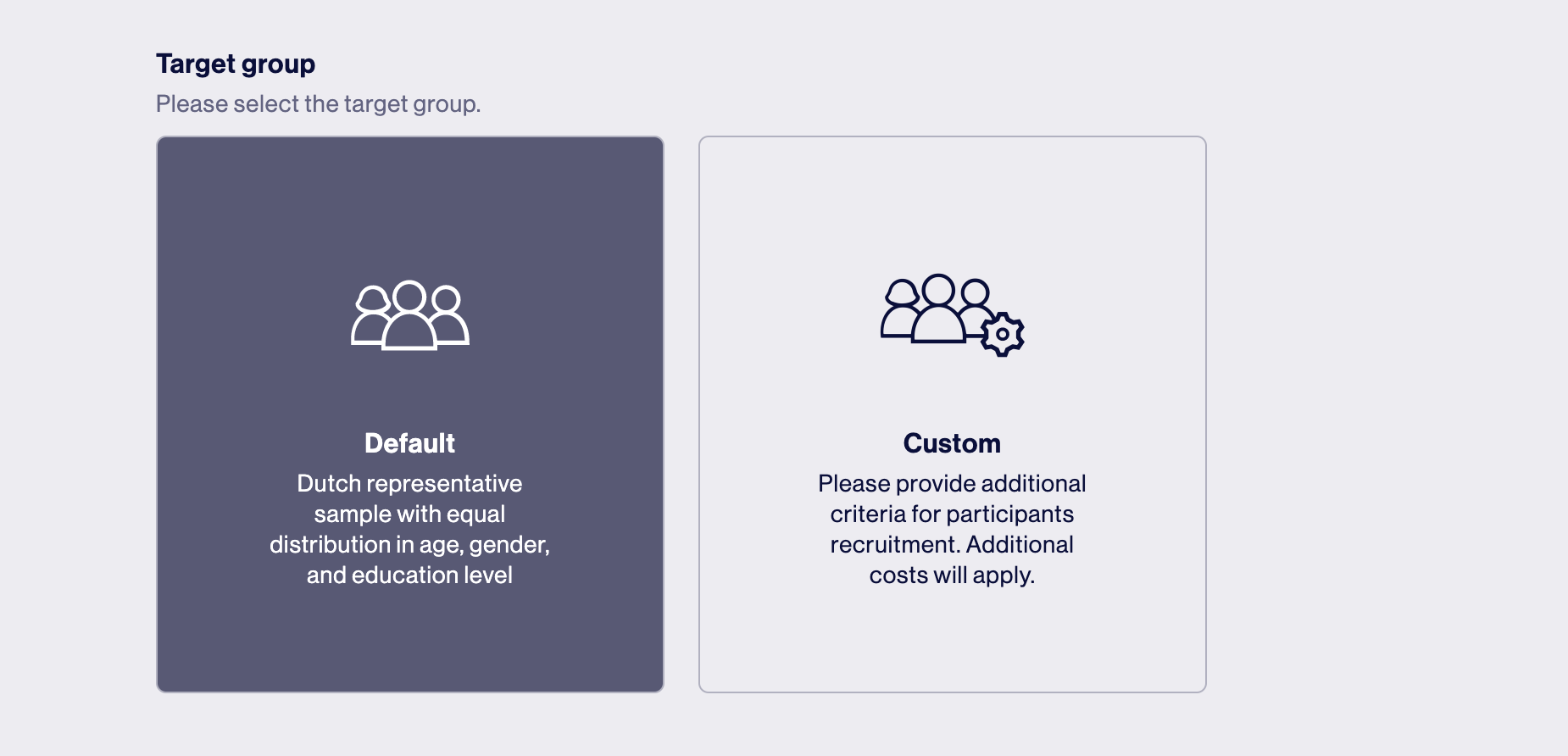 For choosing a target group, we offer two options. The default target group is a Dutch representative, with mixed age, gender, and education level. This target group selection is included in the test price.
Sometimes, a more specific target group is required. In this case you can write the requirements in the box below, which will be discussed in a call with our consultant. Additional costs are involved when a custom target group is requested.
9. Provide us with any additional details or planning

For example if you have a deadline you can let us know through this field, but you can also add any additional information that might help us to get the best results for you.
10. Select your add-ons

We offer two additional add-ons to each test:
Tag on: If you would like to test a TV commercial which has a tag-on, please select this box.
Individual participant data: This feature gives you access - next to the aggregated data video - to the emotion data, eye tracking, neuro feedback and qualitative feedback of the individual participants. There are also extra comments added by participants to the qualitative feedback for a better understanding of their given scores.
11. Ready?
Don't worry if you're not 100% set. Our consultants will give you a call when you click 'request' to advice you and finalize your test setup.